SPARK at the 

Virtual SUMMIT OF AMERICAS
While our current team of staff is the smallest it has been in nine years, we are hugely encouraged by the industry recognition in the past year.  Among these has been the opportunity to exhibit and support industry events such as the Virtual Travel Retail Expo in October 2020 and the Virtual Summit of the Americas in April 2021.  This event will surely mark the most pivotal industry collaborations for Travel Retail in the Americas this year.  Aside from the virtual booth exhibits the summit featured a treasure trove of thought leadership and keynotes that will shape the years to come.  Marked by genuine collaboration stakeholders across every channel aligned to address the current crisis head-on and to stand in solidarity as the industry prepares for recovery.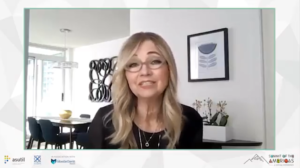 "Blending digitalisation and humanization" a panel discussion including our own, Heidi Van Roon 
https://www.youtube.com/watch?v=_QWrdjKsgEY 
Consumer behaviour has changed dramatically and the future for Travel Retail will be more digital and also more personalized. One serves the other, digital brings life to retail and live retail brings digital to life.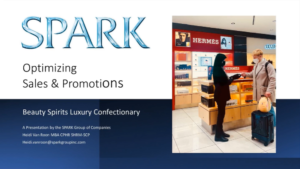 "Optimizing Sales and Promotions" – a presentation by Heidi Van Roon 
https://www.youtube.com/watch?v=20yIWdPaLgU 
The ideas rest on the learnings from the past that best support future sales and promotions.  As single ideas or collectively these ideas look to serve a simple or a complex sales plan. The session also introduces the SPARK Brand Partner Program (BPP) which bundles all these concepts into an outsourced service that is set to outpace the recovery trends.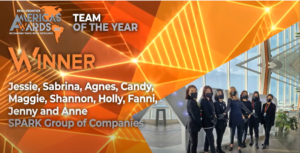 "Americas Team of the Year" – SPARK is named the winner for this inaugural DFNI Award category 
https://www.youtube.com/watch?v=JtVWHhApSho 
Amidst the most difficult year, it was my distinct pleasure to nominate Jessie, Sabrina, Agnes, Candy, Maggie, Shannon, Holly, Fanni, Jenny and Anne for the Team of the Year award.  Not only have their roles changed substantially, but individually and collectively they have kept their focus on customer service and on sales professionalism in the most difficult circumstances.  These team members really are among the front-line heroes and heroines in our stores that deserve to be celebrated. 
It was an honour to find out we were among the finalists and we became quite excited when our team was chosen for the award.  For some comments from the winners lounge please click here: 
https://www.dfnionline.com/latest-news/dfni-americas-awards-winners-lounge-sparks-16-04-2021/ 
SPARK support HR excellence industry-wide: 
"Travel Retail Superstars" – an initiative by the Moodie Davitt Report is set to celebrate the heroes and heroines in travel retail across the globe at the Virtual Travel Retail Expo in October 2022.  We feel deeply honoured to be invited to the working committee.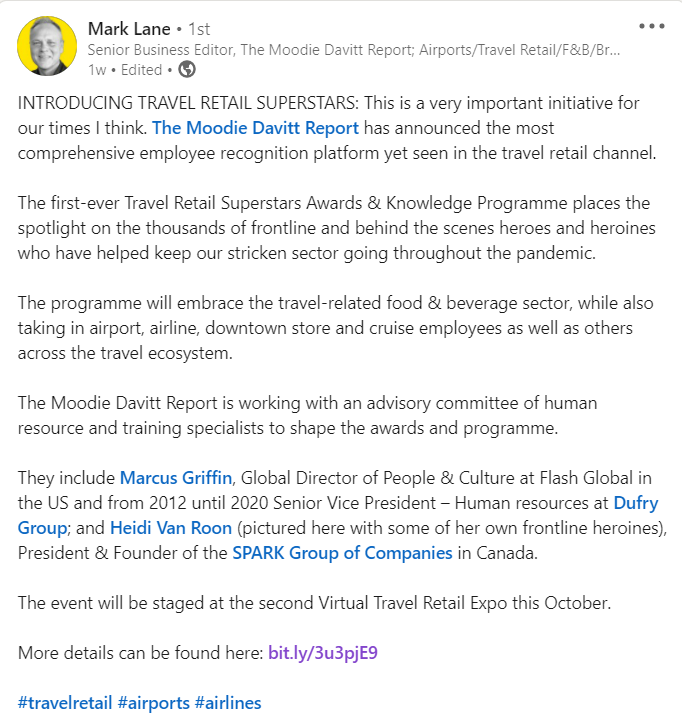 Admin
Great coverage by Mark Lane of the Moodie Davitt Report about our participation in a campaign for emerging UK no/lo spirit brand CleanCo in United Airlines Club lounges across four US airports. What an amazing team. It was an
Admin
We always enjoy recruiting through our network. Perhaps you or someone you know is interested in a temporary fragrance Beauty Advisor position at WDF YVR from April 3rd to June 7th. This opportunity is suited for someone with beauty/fragrance
Admin
Join SPARK at the 2022 Summit of the Americas. The Summit of the Americas is the International Association of Airport and Duty Free Stores annual show and will return as an in-person event! The International Association of Airport Duty