Embracing The Challenge Against The Odds!       
Several years ago, my company faced a seemingly insurmountable challenge. I did not think I had the stamina nor the experience to overcome and so I chose to pursue something physically insurmountable to me: The long -time dream of cycling the RBC Whistler Gran Fondo. It is a 122km (76 miles) cycling event with about 5000 cyclists riding a total climb of about 1700 meters (5,600 ft). I knew that the learning from this physical challenge would metaphorically apply to my business and in hindsight, I am most thankful, scars and all. Thankfully, my business survived and thrived.
A little proud and inexperienced I came up with my own training plan by dividing the route into four 30km sections, then into two 60km sections and waiting for the actual day to ride the entire 122 km. In addition, I cycled up a local mountain weekly, a 9.5km route with an elevation gain of 760 meters (2,500 ft). I wanted to overcome my aversion for mountains, but more than that, I learned to look forward to that conquering moment at the peak. The RBC Whistler Gran Fondo was not about time, it was all about finishing. As a first-time participant, I estimated a cycle time with breaks of about 6 hours. I was wrong.
The day dawned and I felt ready and excited. The ride was beautiful, the route itself is most scenic. A meandering mountain highway carved into the Coast Mountain Range in British Columbia with the Pacific Ocean below and snow-covered peaks ahead. It is brilliantly organized and a most supported event with police directing traffic, people cheering on bridges and bands playing on the roadside. Many creatives lend their support such as the bacon guy who hands out crisp strips while you ride by. Why didn't someone tell me about him? For a full 122 km, the cyclists have the right of way and two dedicated traffic lanes. Dreamy!
It was so empowering to relate all these metaphors to my business and I loved the event until the winds picked up. Never in my training time had I encountered headwinds that required me to even pedal downhill. At times barely able to stay on the bike. The headwind added unexpected discouragement, delays, physical exertion, and hunger. Snacks were no longer cutting it. The burning in my right foot was a flame that intensified for about two hours, I can feel the scar to this day. There were times I had to get off my bike and walk, quitting was never an option!
Crossing the finish line at 7hrs and 15 minutes was among the sweetest moments in my life. I could barely walk, yet the feeling was dizzying. My dear and the most supportive husband was wondering what took me so long, his mochaccino was melting in the sunshine and his battery went dead following me on his app.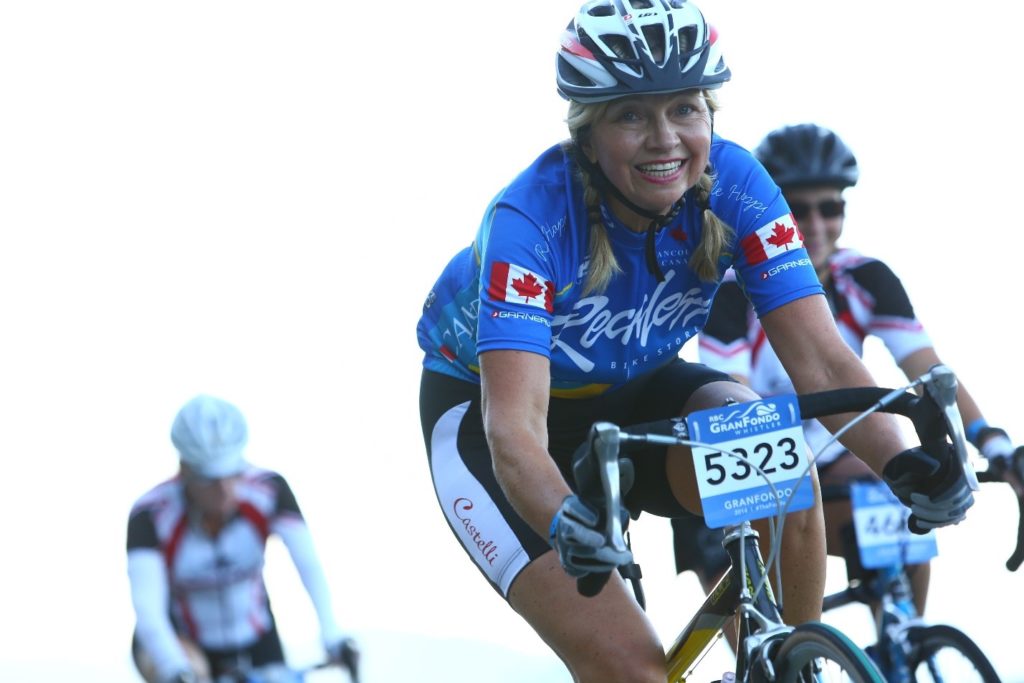 Here we are, amid an industry crisis that is encountering unprecedented headwinds. In a few short months, the industry has experienced a setback that could not have been anticipated in degree and in kind. Metaphorically speaking, the headwinds are so strong, we need to pedal downhill just to stay on the bike and in the game. Physically, emotionally, socially, and professionally seemingly unsurmountable challenges loom large. Exhaustion, hunger, pain and delays will take their toll.
The lessons learned from the Gran Fondo are:
Don't train alone, surround yourself with professional advice and support
Follow expert advice on the equipment needed
Don't ride alone, surround yourself with those that keep going
Nourish yourself well along the way, self care makes the journey endurable and possible
Keep the goal in mind and never give up, wounds heal
Celebrate
Once again I find myself digging into the lessons learned and applying them in this current scenario, to do this challenge well and to surround myself with expert advice and to ensure the right equipment and supports keeping the goal in mind and never giving up. Travel Retail will survive, and we will see a brighter day. We are in good company along the way, make sure to look for the bacon guy. Loved ones may not understand fully yet they are there. We will celebrate one day and what a party that will be!
Author:
Heidi Van Roon M.B.A. CPHR SHRM-SCP
Founder & President for the SPARK Group of Companies
Heidi gives voice and leadership to Sales and HR excellence for Luxury Retail. Her no-nonsense approach has proven savvy, effective and genuine. Heidi combines an analytical, practical and caring approach that is focused on connecting customers with brands that they love and in a way that digital can't. Heidi's leadership style is founded on well-informed context, courageous and creative collaborations, bespoke promotional programs, and genuine heart. SPARK has been named North America's most professional and highest performing sales team by some of the world's most prominent luxury brands.
Admin
Great coverage by Mark Lane of the Moodie Davitt Report about our participation in a campaign for emerging UK no/lo spirit brand CleanCo in United Airlines Club lounges across four US airports. What an amazing team. It was an
Admin
We always enjoy recruiting through our network. Perhaps you or someone you know is interested in a temporary fragrance Beauty Advisor position at WDF YVR from April 3rd to June 7th. This opportunity is suited for someone with beauty/fragrance
Admin
Join SPARK at the 2022 Summit of the Americas. The Summit of the Americas is the International Association of Airport and Duty Free Stores annual show and will return as an in-person event! The International Association of Airport Duty