It is a pleasure to bring you a collection of Canada and USA Travel Retail insights. As our precious industry deals with this unprecedented crisis, we hope the collection informs some of the recovery planning. If it has been published, then we will include the links, if it is from our own shop floor experience then please contact us directly for more information, if it is anecdotal from our conversations with industry stakeholders, then feel free to verify among peers or call us. All information is held with an open hand, and we will gladly stand corrected on errors and omissions.  We are very committed to accurate information, so please hold us accountable.
The collection below is a summary of broad strokes industry news. So grab a coffee or tea and settle into a comfortable chair, this can take a few minutes.
FROM A COUNTRY PERSPECTIVE:
The pandemic containment in Canada is in stark contrast to the ongoing outbreak in the US. This will affect NAM airports and our industry for some time.
| | Total Cases | Total Deaths | Population | Daily new Cases August 11, 2020 |
| --- | --- | --- | --- | --- |
| Canada | 120,421 |     8,991 | ~   37 Million | 761 |
| USA | 5,305,957 | 167,745 | ~ 320 Million | 54,504 |
Source: https://www.worldometers.info/coronavirus/#countries
Against these stark numbers, the State Department recently lifted the five-month Level–4 travel advisory that warns Americans against travelling abroad and repatriates everyone living abroad. Instead, the department urges travelers to consider the risks on a country by country basis. Level 4, "do not travel" advisories remain in place for over 50 countries including Mexico, India, Bahamas and Russia. https://www.nytimes.com/2020/08/06/travel/USA-Travel-State-Department-warnings.html
Travel plans are further complicated by the rules and regulations in place at the destination countries for receiving foreigners. The race is on for the best app or link. The two we have found are:
To sum it up: "International travel remains complicated and can change any day".
The Canadian airports open for international travel are Vancouver, Calgary, Toronto, and Montreal. All four airports are in provinces that are well into their respective reopen plans. The Canadian government requires temperature screening of all departing passengers and mandatory wearing of masks airside for all staff and travelers. Arriving passengers are required to quarantine for 14 days, this includes a required pre-determined plan by each traveler as part of the entry requirement. Travel Retail for outbound international passengers is beginning to open cautiously and on a route by route basis. Since July we have been anticipating the daily Air Canada flights to and from Shanghai and Beijing. The restart of these essential routes was postponed until July 15th and are now completely removed from all Canadian airport schedules. The flights to and from the four designated airports are currently only serviced by foreign carriers. We have received anecdotal information on the cancellation of these flights but have not been able to verify this. Suffice it to say that these Air Canada routes remain a mystery. I am happy to have a phone conversation with anyone interested in these routes, as they will be key in the reopening plan.
The Canadian Broadcasting Corporation (CBC) recently forecasted that the US / Canada border closure may continue until mid to late 2021:
https://www.cbc.ca/news/business/canada-u-s-border-travel-couples-alaska-1.5670867
The prospect of an extended US/Canada border closure will have a substantial impact on airports, airlines, travel and tourism between the two countries and of course the US and the rest of the world as Europe have banned flights coming from the US and the US has also banned flights from China. We stand with our dear neighbor to the south, our closest ally and most essential economic trading partner. How can it happen that an entire country is in a community bubble of 320 Million? The combination of the industry shut down and the ongoing crisis in the US is a one-two punch in the recovery planning between Canada and the US and the US and the rest of the world. Speculations are on Q4 for the first signs of a recovery in the US:
https://www.bbc.com/news/av/world-us-canada-53423637/coronavirus-us-v-other-countries-did-it-mess-up-its-reopening
FROM A RETAILER PERSPECTIVE:
Another dynamic in the recovery period is shaped by the retailer's readiness to reopen. Here some high-level insights into these plans for Aer Rianta, DFS and Dufry.
Aer Rianta deserves an honourable mention for a most comprehensive reopen plan. Complete with compelling promotions, strong stock situations and even ribbon-cutting celebrations the group is positioned for a most positive customer experience in those airports that are operating. Congratulations to Jacki McDonagh, Colin Morgan and the rest of the Montreal team for such an amazing plan and enthusiastic readiness. In the case of Aer Rianta, it can be anticipated that the recovery trend will truly be attributed to PAX counts only and this optimism allows for less complicated planning for Q3 and Q4. This is a must-watch video clip.
In a recent conversation with Jacki McDonagh, she confirmed that though PAX counts are down, the average spend per PAX is substantially higher. She also confirmed that penetration has doubled, in that a much higher percentage of travelers are coming into the stores and making a purchase. She attributes this trend to: 1) a higher ratio of passengers travelling for leisure and to see family and friends, and; 2) to sales staff that is encouraged to connect more genuinely with their customers.
DFS announced in May that they will be closing stores in LAX, SFO and JFK for June, July, and August. This closure is now extended until October. With recent substantial restructuring, the announcements around a reopening plan will be welcome news once they are available. All things considered, now is the time to plan for Q4 for DFS locations. We have not been able to connect directly with our contacts at DFS.
Dufry's recent announcement charts a Year on Year decline of 60% for H1 of 2020 worldwide. Included is a gradual reopen plan at key locations and aligned to PAX with the view of having 50% of stores open by the end of August 2020.
Vancouver Dufry Duty Free has announced touch free online shopping and pre-pay options with a simple pick up in the store on the way to the gate. The promotion of buy 2 and get one free is still active and has been in effect since at least May 2020: https://vancouver.shopdutyfree.com/en/
On a global level, Julian Diaz, in a recent interview with TRBusiness, is focussed on brand assortment and promotions to attract customers. He also speaks about negotiations with suppliers to have 70% of the sales capacity in operation by the end of August. A 30% reduction of personnel costs has also resulted in substantial restructuring at every level. As the world's largest travel retailer Dufry's plans to reopen and to make good are among the most tightly observed: https://www.trbusiness.com/regional-news/international/dufrys-julian-diaz-life-needs-to-normalise/193595
The retailer challenges are no secret and the impact is felt locally and among our peers. Tough decisions have affected everyone, not just those who have moved on but also those who are still with us. Processing these effects on the amazing people in our work family takes time and support. The extent of the crisis cannot be overstated and will require a long, patient, and steady commitment around recovery.
Both, the country dynamics, and the retailer dynamics will play heavily into the reopen plans. Layered on top of this is the geopolitical climate that continues to affect travel between key markets and the looming economic crisis once the extent of the pandemic is better charted. Have I missed anything?
The inclination is to keep looking for blue sky, yet amid this uncertainty, it is probably best to focus on solid ground and the encouraging facts that provide a solid footing. Metaphorically this encourages a focus on these simple truths: Some airports are open, some planes are flying, some staff are working, and some travelers are shopping. That is the good news of the day and the prospect for growth in each of these areas is positive, for that we are thankful. Most of all, we want to encourage the most amazing human qualities that lead through times of crisis. A big thank you and shout out goes to every positive message and every encouraging word and deed. Like the flywheel concept described in the book Good to Great, so each little task will contribute to the momentum that is needed to lift the industry again.
SALES EXPECTATIONS:
Since the beginning of June, we have a few staff on the shop floor at YVR.  Average sales outcomes per Beauty Advisor/hour in the month of June are at or well above expectations.  For a high-end skincare brand our Beauty Advisor averaged well over $400 CAD per hour for the month. Sometimes there was only a single departure during a four-hour shift.  With many out of stock items, this outcome is truly remarkable.   Though much fewer passengers, we are observing a higher spend per customer and a longer dwell time per customer.These statistics are in keeping with industry comments from retailers. We believe in the relevance of great sales staff and the support of a strong sales culture.
More formally and across a much larger data set, Dufry has charted some customer insights. Notably, 93% of customers will engage the same or more in duty free shopping.  Another survey showed a 20% increase in spend per passenger.
https://www.trbusiness.com/regional-news/international/dufrys-contract-negotiations-ongoing-as-more-stores-reopen/193556
Estee Lauder published sales results for the third fiscal quarter ending in March noting that though fewer passengers were shopping, the conversion rates were substantially higher at 30% – 40% from a typical 10% ending the third quarter up in the low single digits over last year.  Q4 (April – June) is expected to be the worst in travel retail history: https://www.forbes.com/sites/kevinrozario/2020/05/13/este-lauder-says-travelers-are-eager-to-shop-duty-free-during-pandemic/#414e23b2912f
The Financial Times published a broad strokes article on what can be anticipated in Beauty trends post COVID-19: https://www.ft.com/content/98e8ab63-0676-4c87-9ae3-071486773dea?desktop=true&segmentId=d8d3e364-5197-20eb-17cf-2437841d178a#myft:notification:instant-email:content
While many factors need to be considered for the most effective staffing of sales and promotions, it is safe to say that labour productivity per hour substantially supports the labour costs per hour.  Our strong encouragement to brands is to schedule staff to work when there are flights and to measure sales each day.  We believe this is the best way to establish the sales staffing budget and expected ROI for H2 in 2020.  Solid and firsthand sales tracking is a must for staffing plans based on actual sales this month.
As the front-line team of our amazing industry, the sales and promotional staff are ready to connect customers with the brands they love. The budget for sales staff will be one of the most critical planning elements.  Best in class staff and daily sales and reporting accountability and tight planning month by month will be required to optimize the opportunities around every departure.
The retailer staff cutbacks will place a further onus on brands to manage their business and have expert staff on hand to support sales and promotions and to manage stock.  Collaborations with dependable agencies will gain relevance as every departure counts and every customer is treated with best in class service.  This will move the needle on sales outcomes each month.  100% brand funded staffing is critical as long as retailer approval is granted and supported.
Dufry statistics on a global scale show net sales by product category are led by Perfumes and Cosmetics (31%), Food and Confectionery (19%), and Wine and Spirits (16%)
https://www.moodiedavittreport.com/dufry-counts-the-cost-of-crisis-as-first-half-sales-plunge-62-but-points-to-resilient-gross-profit-margin-and-stepped-up-reopening-plan/?utm_source=dlvr.it&utm_medium=linkedin
For Liquor and Spirits Diageo reports that NAM outperformed other regions for FY Jun 30, 2020.
GLOBAL PASSENGER LEVELS:
As part of our Market Updates, we like to include global perspectives including statistics from IATA. The most recent report predicts a recovery by 2024 to 2019 levels considering RPKs per year.
IATA RPKs are down 58.4% for the period of Jan – Jun 2020 compared to the same period in 2019 and are predicting an annual trend of 60% Y/Y for the twelve-month period ending 2020.
In previous Market Updates and in better times IATA projected the doubling of RPKs in the period of 2017 – 2037 to 8.2 Billion: https://www.iata.org/en/pressroom/pr/2018-10-24-02/
Using simple extrapolation and barring other negative developments, we are proposing that the doubling of RPKs by 2037 will simply be extended by five years to 2042. Over the long term the travel retail industry, despite all the setbacks, is expected to show resiliency and the ability to recover and thrive.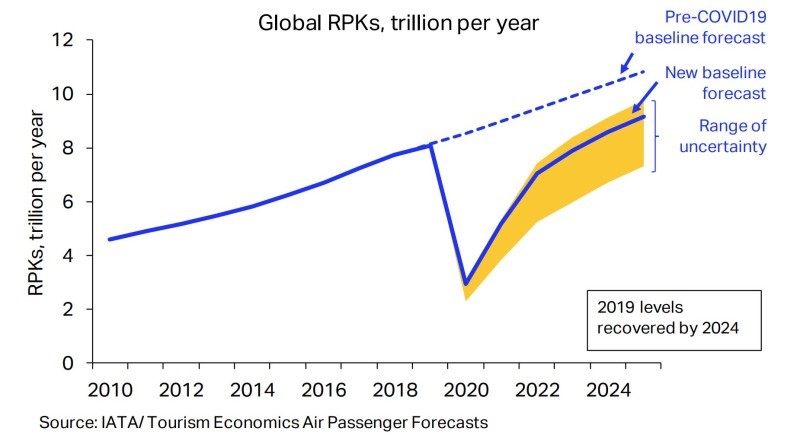 https://www.iata.org/en/iata-repository/publications/economic-reports/Five-years-to-return-to-the-pre-pandemic-level-of-passenger-demand/#__prclt=ae5zbrIn
TORONTO, VANCOUVER & MONTREAL AIRPORTS:
We are predicting that the travel retail recovery will be led by Canadian airports, therefore a more in-depth look at PAX trends is included here.
MONTREAL – YUL STATS AND FACTS:
The number of enplaned and deplaned international passengers at Montreal Airport for the period of Jan – May 2020 is at 57.8% compared to 2019 counts for the same period or at – 42.2%. The count for transborder passengers for the same period is at 50.2% against the same period in 2019 or at -49.8%. https://www.admtl.com/sites/default/files/2020/ADM_Statsdet_2020_EN.pdf
TORONTO – YYZ STATS AND FACTS:
The Jan – May traffic summary for Toronto Pearson shows a -49.3% change for international passengers against the same period in 2019 and a -53.2% change for transborder volume. https://tpprodcdnep.azureedge.net/-/media/project/pearson/content/corporate/partnering/pdfs/traffic-summary.pdf?modified=20200723150038&la=en
VANCOUVER – YVR STATS AND FACTS:
The Jan – June total for enplaned and deplaned international passengers at YVR is at 40.5% against the same period in 2019 or -59.5%. For transborder passengers, the y/y trend is at 38% or -62%. YVR stats and facts Aug 26
The current weekly international departure schedule for YVR is:
A few flights have been added each week in the months of July and August.  From a staffing optimization standpoint, we are recommending 40 hours of work for full-time workers and 20 hours of work to cover gap hours.  To reinstate staff (ongoing and demo) on the shop floor takes about 2-4 weeks from the approval process to badging to training and scheduling.  A most genuine thank you to Marilyn Bolomy and to Jim Choy and Justin Lesiuk at YVR for their continued support and permission to assign sales staff.
With international flights slowly being added and with the effective management of the pandemic this trend for increasing departures is expected to improve over the next six months.  Based on our June and July sales numbers, we are recommending a conservative benchmark of hourly sales vis a vis hourly labour costs.  Our data show that ROI is positive and that it is essential to cover departing international flights, even if there is just one departure during a shift.  We are available to help on a brand by brand basis to ensure positive ROI. These Market Updates are intended to encourage collaboration of industry intelligence whatever promotions agency you choose to work with.  We are here to provide pro bono insights based on experience, so please call there are no obligations.
IN OTHER CANADIAN NEWS:
As the popular Canadian Emergency Response Benefit of $2,000 / month expires soon, the government of Canada has announced that there will be revisions to the Employment Insurance benefits. These details and qualifying criteria are expected within the next weeks. With the temporary layoff period expiring after 24 weeks, employers are pressed to formally terminate the employees not yet recalled unless a union collective agreement provides otherwise. For non-union employees, there are big decisions to be made, and soon. Staff not recalled within 24 weeks will need to move to a "temporary layoff" status, and termination pay applies.  Staff not recalled will move to a revised Employment Insurance. For staff that is expected to return to the shop floor, it will be essential to get the requests processed asap to: 1) ensure retailer approval; 2) reinstate badges; 3) schedule shop floor hours; and 4) schedule return to work training. https://www.linkedin.com/feed/news/trudeau-expands-employment-benefits-4178385/
These Service Canada benefits are expected to eventually impact the cost of employer obligations and consequently labour budgets.
AIR CANADA ROUTE UPDATES BY REGION:
Please bookmark this page and check frequently for Air Canada routes that will open up from all four Canadian airports servicing International destinations for the months starting August 2020. https://www.aircanada.com/ca/en/aco/home/book/travel-news-and-updates/2020/route-updates.html#/pacific
THE FUTURE OF AIRPORTS: FROM HERE TO WHERE?
Among the silver linings of the industry shutdown is the proliferation of thought leadership.  A predominant theme is to address the commercial model not just between Airports and Retailers, but also between Retailers and Stakeholders such as: brands, staff, B2B, and customers.
A two-day webinar on September 15 & 16 will be addressing a line up of bold topics. Intended as a platform for seminal thinking and courageous conversations, this has the makings of an industry tipping point. The current shut down is an unprecedented opportunity for some seismic upgrades to the way we think and work towards shared success in our beloved industry.
Co-hosted by PORTLAND Design and TRUNBLOCKED, the invitation is open to all with registration capped at 1000/day. Registration is required and early registration is encouraged for anyone interested in one or both days. For session topics, speaker line up and registration please go to:
SPARK will be participating on the second day and on the topic of better empowering brands to do what they do best: Creating extraordinary moments for customers in a most remarkable way. A recently published blog post introduces some of the initial thinking on this topic. It is a tremendous privilege to be included among some industry veterans.  It is our commitment and intention to collaborate and to contribute in a way that best serves the industry. The modus operandi for us is centered around a win-win-win. Any comments on this blog are of course welcome, we want to come alongside as collaborators and with a leadership model that embraces: strength and kindness and success.
VIRTUAL TRAVEL RETAIL EXPO Oct 12 – 16, 2020
With the cancellation of the TFWA 2020 in Cannes, trust none other than Martin Moodie to dream up the Virtual Travel Retail Expo as the industry trade event for 2020. SPARK will be speaking on the topic of Sales in a post COVID era, and will also be exhibiting. We are most appreciative of the Canadian CanExport Program and to The Moodie Davitt Report for this opportunity: https://virtualtrexpo.com/
It is serendipitous that the original plan to attend in Cannes as a first-time guest has turned into a speaking request at this inaugural event. This year is truly a juxtaposition of "the biggest interruption" and "the biggest breakthrough". Strange how these things happen, we are happy to roll with it.
IN SUMMARY:
I remember having a conversation with one of the WDF YVR managers in mid-February and predicting that the disruption from the coronavirus outbreak would last 2 – 3 weeks. There was no telling than just how wrong that prediction would be, it is humbling. Yet amid the greatest uncertainty in our industry, I believe it is more relevant to exercise voice rather than silence. For all the insights included here, we are simply sharing our best collection of information and our best hopes and dreams for the future. We are in this together with you.We are not ashamed to hold up ideals as long as we remain realistic.
Onward and upward we go, sincerely and always with best wishes, Heidi Van Roon
Admin
Great coverage by Mark Lane of the Moodie Davitt Report about our participation in a campaign for emerging UK no/lo spirit brand CleanCo in United Airlines Club lounges across four US airports. What an amazing team. It was an
Admin
We always enjoy recruiting through our network. Perhaps you or someone you know is interested in a temporary fragrance Beauty Advisor position at WDF YVR from April 3rd to June 7th. This opportunity is suited for someone with beauty/fragrance
Admin
Join SPARK at the 2022 Summit of the Americas. The Summit of the Americas is the International Association of Airport and Duty Free Stores annual show and will return as an in-person event! The International Association of Airport Duty