Great coverage by Mark Lane of the Moodie Davitt Report about our participation in a campaign for emerging UK no/lo spirit brand CleanCo in United Airlines Club lounges across four US airports.
What an amazing team. It was an easy project on paper, in reality, it was the toughest to date. The most valuable learning comes by doing and by accepting the challenge of opening new channels.
Read it here or below:
Dynamic duo drives CleanCo's no/lo spirits campaign in US airport lounges
by Mark Lane
[email protected]
Source: ©The Moodie Davitt Report
8 March 2022
Wand Technology, an Israeli company which uses technology to helps airlines, airport and travel retail operators to grow ancillary revenues, recently teamed up with Canada's The Spark Group of Companies to run an experiential campaign for emerging UK no/lo spirit brand CleanCo in United Airlines Club lounges across four US airports.
This was no ordinary campaign. Run through January and February during a still-raging pandemic, it focused on a nascent category and involved project experts across ten time zones.
Against pretty much all the odds, the initiative was a huge success despite major challenges and restrictions facing the organisers. The Moodie Davitt Report's Senior Business Editor Mark Lane talked to Wand Technology Director of Operations Ian Kay and Spark Group President & Founder Heidi Van Roon about the project.
Mark Lane: This sounds like a departure from your usual tech-based business activities Ian. How did you get involved with CleanCo in this experiential kind of work?
Ian Kay: I like that you lead with the word "usual" in relation to business activities, Mark. Over the last couple of years, our industry has been so focused on everything that is unusual that it has been easy to lose sight of some basics; that brands still want to reach a relevant audience, that airlines and other travel industry stakeholders still need to get cash in the bank and that people are still travelling.
This was how we entered the conversation with CleanCo. They wanted to support their launch in the US with an awareness campaign aimed at a precise demographic. This included sampling and response as well as direction to the CleanCo online marketplace.
We knew that US domestic air travel was holding up pretty well and maintaining decent passenger numbers and that with the right approach a highly relevant segment of this audience could be within reach of the brand. We found this in the VIP lounge space.
Certainly in a world more usual we would have been keen to deploy our full box of tools to enable engagement across all of the digital and physical touchpoints. Instead we took a more realistic approach, one that addressed real events on the ground, placed the brand in front of its target audience and achieved a memorable campaign.
"Recruiting, training and fully staffing four US hub airports with super-effective brand ambassadors in the middle of a global pandemic, with school closures, freak hurricanes, snowstorms, unmanned airport pass offices and a full shift cycle to fill. What could possibly go wrong?" – Wand Technology Director of Operations Ian Kay
In fact, this focus on experiential was actually a turning back of the clock for me having spent over a decade designing and building weird gizmos and theatre experiences with JCDecaux in airports and city centres around Europe. It was great fun but reminded me why I have shrunk several inches, am completely bald and have my own cardiologist.
How did you make the connection with United Airlines as a provider of promotional venues?
Wand has had a close relationship with United for several years and as an airline they have always been hugely open and sympathetic to the ideas that we have presented for commercialising their digital and physical assets to leverage ancillaries.
We knew that they were one of the few US airlines to have a mature and comprehensive media pack, specifically for their Club Lounges. They have a fantastic team of people who go the extra mile and more to get the job done. Their Clubs remained open and with very strong footfall in our target hub locations, comprising a significant proportion of our target audience. Quite simply, they were the obvious media partner.
How did the tie-up with Heidi Van Roon and The Spark Group of Companies come about? What role did she and her staff play in the campaign's execution? 
Anyone that knows Heidi knows that she is the poster girl for pandemic positivity. Her messages to the industry have been unmissable and her values around human-to-human engagement and the elevation of brand ambassadorship in activations really resonated with me, even before we met over 18 months ago.
We share many of the same beliefs around this subject and I was incredibly keen to work with her on this project.
I doubt she shares my enthusiasm now. Think about it. Recruiting, training and fully staffing four US hub airports with super-effective Brand Ambassadors in the middle of a global pandemic, with school closures, freak hurricanes, snowstorms, unmanned airport pass offices and a full shift cycle to fill; what could possibly go wrong?
Well, to her enormous credit she pulled it off and it is a tribute to her tenacity, imagination and courage and the support of a full cast of collaborative partners. I think we're still speaking although she did ask for the number of my cardiologist.
So tell us about the CleanCo drinks range and examples of the cocktails created with mock spirits in the airline lounges. 
CleanCo taps into the new public focus on health and wellness with a range of non-alcoholic spirits that include Clean G (gin), Clean T (tequila) and Clean R (rum).
They created three cocktails for the campaign which our Brand Ambassadors were trained to mix and present.
The Clean T signature serve, the Clean Paloma, the brand's take on the refreshing tequila and grapefruit soda classic. Paired with Fever-Tree Sparkling Pink Grapefruit made with real juice including from hand-picked Florida grapefruits.
The Clean G&T – the Classic G&T. Fresh mint leaves and slices of lime throughout the drink paired with Fever-Tree Elderflower Tonic made with essential oils from English elderflowers with quinine of the highest quality.
The Clean R – Clean & Stormy reimagined this well-known classic as a Clean non-alcoholic cocktail, yet with all the delicious citrus zing, ginger spice, and warm caramel notes you'd expect. Paired with Fever-Tree Premium Ginger Beer made from a blend of three exotic gingers.
What has driven the exponential rise in popularity of the low/no alcohol drinks market?
We were able to gather a very significant tranche of data in the form of thousands of responses from the lounge guests on this subject.
To the overwhelming majority of them it was the emphasis on health and wellness and the perception that no/lo spirits offered them the opportunity to continue to enjoy their favourite cocktails without the after-effects of alcohol and with a fraction of the calories. In other words they could drink moderately and responsibly and still have a great experience.
I must say that as a lifelong teetotaller, I felt compelled to try all the cocktails, purely for research purposes, and conclude that if this is drinking, I'm all in.
Such a campaign would hardly have been possible 18 months ago due to COVID. How did you ensure the campaign was safely conducted? Does this indicate that airports and their commercial stakeholders are moving on from the prevailing ultra-cautious mindset of earlier in the pandemic?
This brings us back to selecting the right partners with whom to work and specifically Heidi and her team at Spark.
They have tonnes of experience of safe working in the airport spaces and run a comprehensive training programme for all their staff that has been adapted to the current "usual".
In turn, we understand the requirements imposed by United and other lounge operators in order to comply with their health and safety standards and this enabled us to deliver a campaign that met and actually exceeded all expectations.
We have all had to learn to work in new ways and I don't see this changing any time soon. However on the evidence we have seen, passengers are just happy to be travelling again and have assimilated these new behaviours with the same willingness and cooperative spirit as when they had to start taking their shoes off to get through security.
What feedback have you given CleanCo about the campaign? 
One of the key benefits of Brand Ambassadors delivering the promotion in the lounges is the opportunity for meaningful engagement with guests and gathering genuine response to sampling.
With this said, we were able to establish and report on product preferences, motivations to try, buy or fly, segment our audience by age, gender, travel class and travel group and record and report thousands of actual quotes, location by location.
We were also able to drive conversion from sampling to browsing the CleanCo online marketplace via a scan of promotional QR codes on print media that supported the campaign. Here, over 50% of guests who sampled and responded then went on to scan and browse the brand online and this was considered to have successfully nailed down a KPI of the brief.
So what next with you and CleanCo in the airport environment? 
We were certainly able to demonstrate to CleanCo that the use of Club Lounges brought its target audience into reach with precision and allowed them to engage with it during a period of long dwell time and high motivation.
Thematically and for obvious reasons this campaign was designed for 'dry January'. However, we envisage that the increased awareness of responsible drinking tied to the health and wellness message from the brand will see us revisiting this type of activation again later in the year.
Are you looking to link up with other drinks companies for lounge campaigns, building on this initial success? 
We are definitely seeing a very strong motivation from the media owners to bring brands that promote the health and wellness message into their lounges. To this extent my sales colleagues are already in discussions with several prospects in this space looking to reach this audience.
Certainly these include F&B brands and specifically no/lo spirit companies who have recognised the opportunity to include this segment in their marketing mix. In anticipation of this growing demand we are actively growing out our network of lounge partners to ensure that we can offer a genuinely global proposition to our brand clients.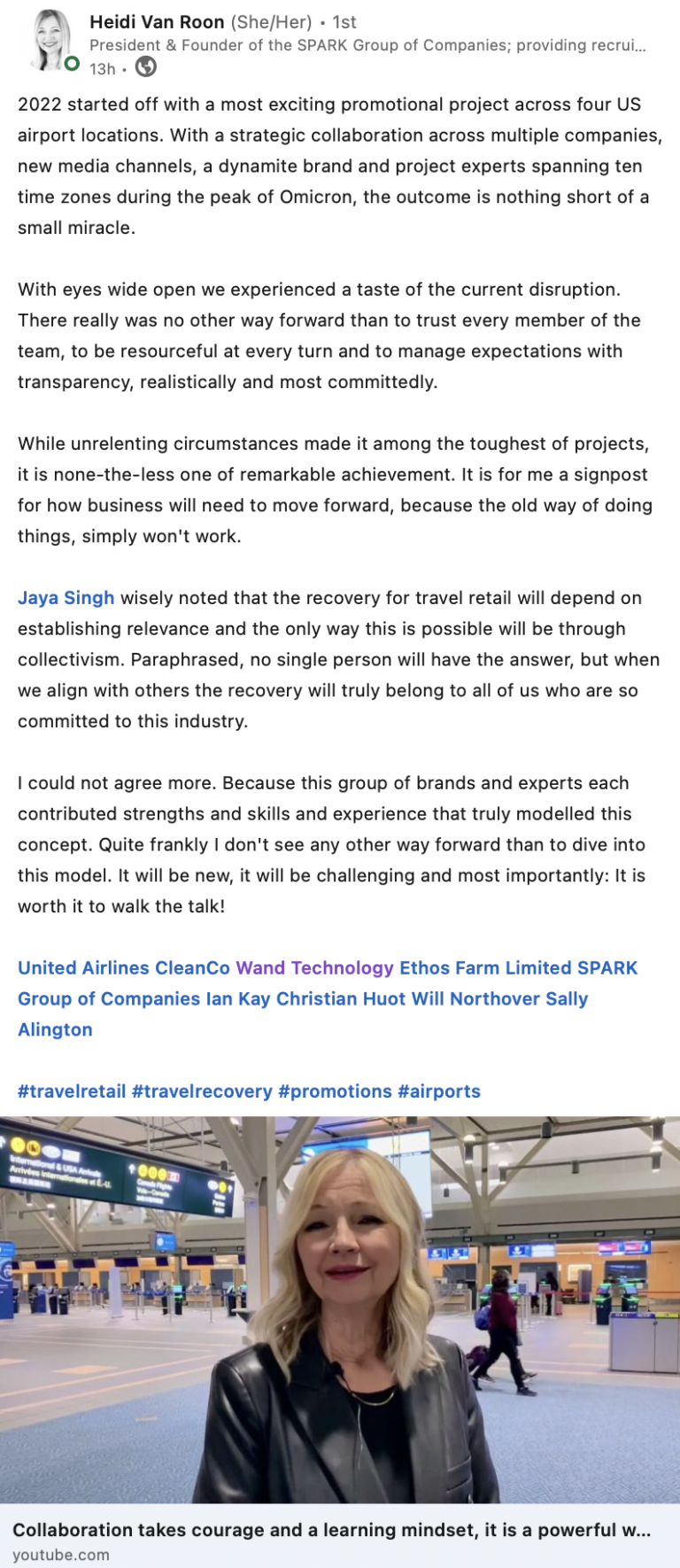 Admin
Great coverage by Mark Lane of the Moodie Davitt Report about our participation in a campaign for emerging UK no/lo spirit brand CleanCo in United Airlines Club lounges across four US airports. What an amazing team. It was an
Admin
We always enjoy recruiting through our network. Perhaps you or someone you know is interested in a temporary fragrance Beauty Advisor position at WDF YVR from April 3rd to June 7th. This opportunity is suited for someone with beauty/fragrance
Admin
Join SPARK at the 2022 Summit of the Americas. The Summit of the Americas is the International Association of Airport and Duty Free Stores annual show and will return as an in-person event! The International Association of Airport Duty