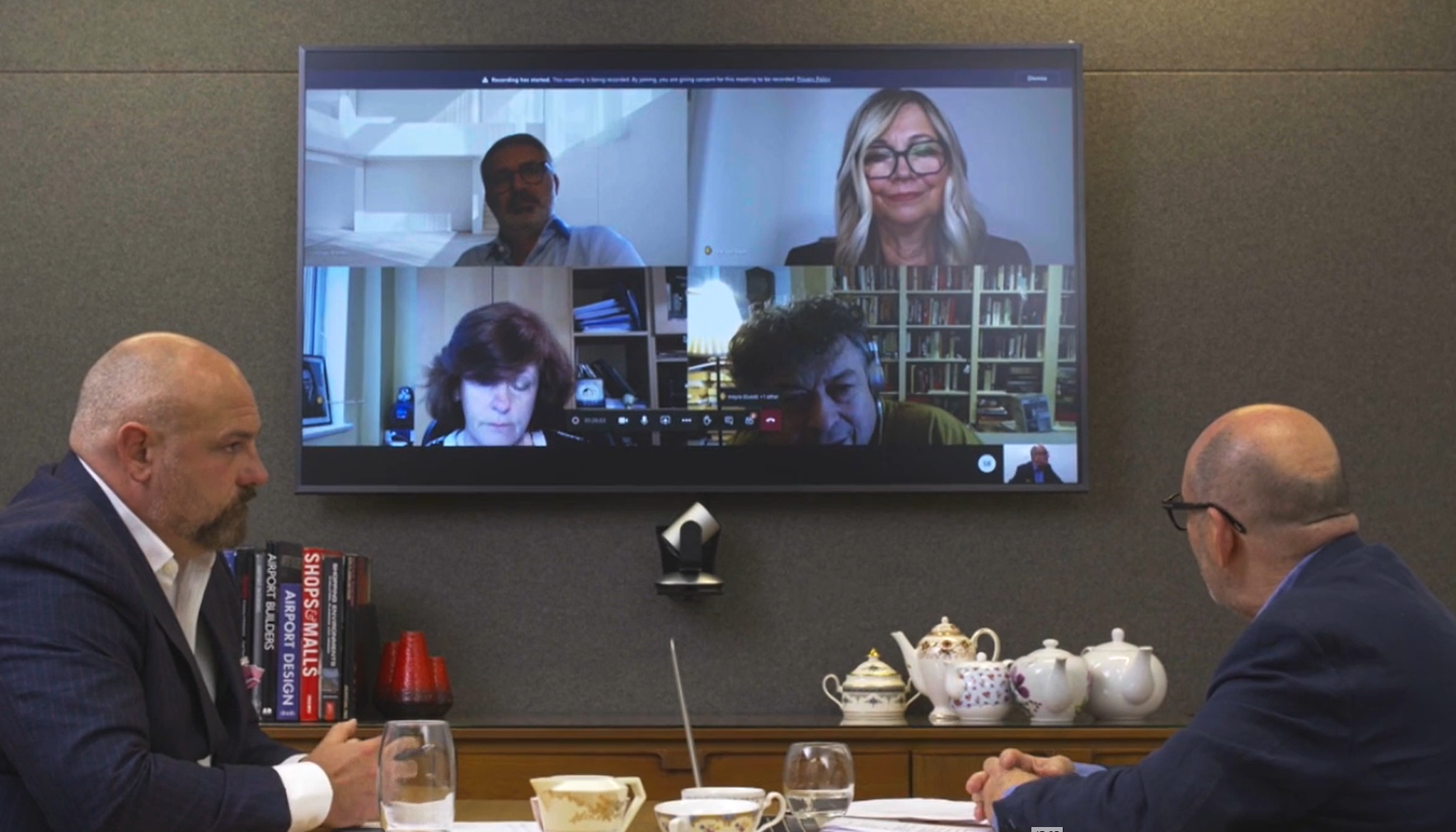 Last month Portland Design together with the influential travel retail blog trunblocked.com launched its inaugural webinar series: Future Airports: From Here to Where?
The remarkable line-up of speakers and panellists from both inside and outside the airport and travel retail industry shared their thoughts on the future of the sector and talk about growing the future asset values of airports.
Hosted by Moderator – Peter Marshall, TRUnblocked, our own Heidi Van Roon was joined by a stellar lineup of stakeholders from different disciplines and experiences surrounding airport and travel retail to discuss Brands and Retail Theatre.
Stewart Dryburgh, General Manager – Nestlé International Travel Retail
Jérôme Le Page, Marketing & Business Development Director – JC Decaux
Moyra Race, Founder – Strategic Buying Consulting Services
Rory Sutherland, Vice Chairman – Ogilvy UK
Philip Handley, Executive Creative Director – Circle Square
Lewis Allen, Senior Director, Portland Design describes the group:
There is one common theme running through all the individuals. We think they have got something in their experience, in their vision, in their ideas, that is future-focused. They understand that future, they understand the opportunity for airports and travel retail, and they can suggest the right kind of changes to make revolution happen.
Of course, we have some very well-known people and very talented people from inside the business in our event line-up. But, importantly, there are also some fresh voices from domestic retail contributing to our event who are doing excellent things around the way brands and consumers are behaving now, reacting to those different behaviours and different mind-sets, and coming up with real, actionable solutions.
We are pleased to showcase Session 7: Brands and Retail Theatre – A Bigger or Lesser Choice
To view the other sessions please visit the vimeo lineup here.
Click to read Mark Lane ask Portland Director Lewis Allen about what to can expect from Future Airports: From Here to Where?, which aims at reimagining the future air passenger journey.
SPARK is a Sales and Promotions firm that partners with global brands and retailers to provide comprehensive recruitment and staffing services for luxury travel retail. Mid and post the COVID-19 pandemic, there is not a function on the shop floor that will be as strategic for the recovery as the sales function. The success of our work rests on our founding values for professional excellence, intelligent practices, strategic collaborations, and shared success.
Admin
Great coverage by Mark Lane of the Moodie Davitt Report about our participation in a campaign for emerging UK no/lo spirit brand CleanCo in United Airlines Club lounges across four US airports. What an amazing team. It was an
Admin
We always enjoy recruiting through our network. Perhaps you or someone you know is interested in a temporary fragrance Beauty Advisor position at WDF YVR from April 3rd to June 7th. This opportunity is suited for someone with beauty/fragrance
Admin
Join SPARK at the 2022 Summit of the Americas. The Summit of the Americas is the International Association of Airport and Duty Free Stores annual show and will return as an in-person event! The International Association of Airport Duty