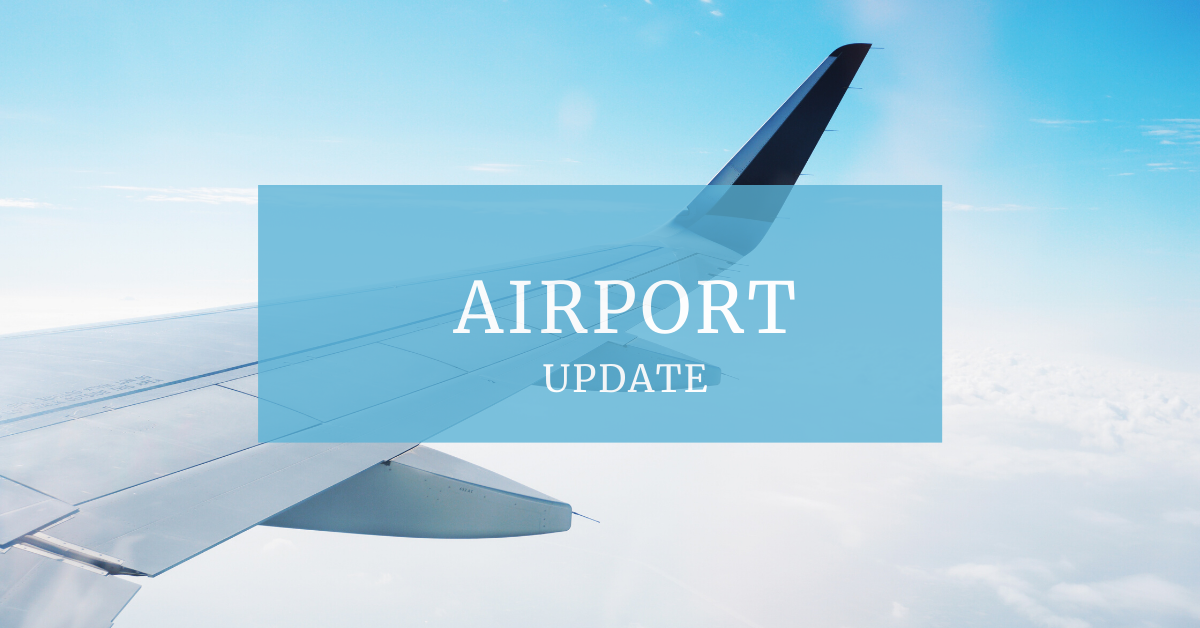 Airport Update – June 2020
For an interactive Coronavirus Travel Restrictions Map – bookmark this amazing IATA link to see the country by country travel restrictions:
In our March Market Update, we included a snapshot of current capital projects at key Canadian and US airports. Included below are previously published airport information and updates on each project that are publicly available.
Curves and Lines have taken on new meaning and with the focus on reopening the economy, it can be anticipated that travel bubbles (airbridges) will emerge between countries and/or approved destinations.
Amid the near standstill in aviation, it is good to be reminded of committed projects. The total capital investment into airports listed below is a total of $42.6 Billion dollars. More government announcements will be forthcoming to support the ongoing investments into airports, airlines and aviation in general.
The trendlines suggest BC and more specifically YVR might be among the first airports to see flight restrictions lifted. As an Asia Pacific Gateway, this is relevant. It can be anticipated for YVR to be a leading Canadian gateway during the recovery and beyond.
The border closure between Canada and the USA is extended to June 30th, 2020 for non-essential travel.
Air Canada Route Suspensions can be found here: https://www.aircanada.com/ca/en/aco/home/book/travel-news-and-updates/2020/china-travel.html
Notably, regular AC flights between Vancouver and Hong Kong and Taiwan are currently active. Flights from Vancouver to Bejing and to Shanghai are set to be reinstated on July 1.
1. YVR – Vancouver International airport:  $9.1 Billion
Pier D expansion project in the International Terminal was set to open June 2020. The project is near completion and is currently postponed until further notice. This phase of the project entails eight additional wide-body gates operational in the International Terminal. All these passengers will be going past shop 3 and through shop 1 and past shop 14 before reaching their gates in Pier D. In addition, Dufry YVR will open a new shop in Pier D, estimated at ~ 1,600 sq ft and will include Beauty, Confectionary and Liquor, the setting for the store will be among other high-end retail and unique Food and Beverage concessions. YVR also has the most direct flights to mainland China per week out of any airport in Canada, the US and Europe and is also a favoured transfer point between Asian destinations and Latin America. The peak hours are typically 10 am – 2 pm and the second peak period is 10 pm – 2 am. Brands testing midnight coverage show a positive ROI that far outpaced the Y/Y sales trend during the daytime period. The midnight coverage can easily add 20% to daily sales (pre-COVID) and cannot be overstated, please ask us for a presentation.
YVR has a total of $9.1B in capital projects on the calendar between now and 2038 spread over 75 construction projects. With a track record of annual passenger growth, the projections pre-pandemic were to increase from 25million – 35million by 2037 annually. More details are available here.
2. YUL – Montréal-Pierre Elliott Trudeau International Airport: $2.5 Billion
About $2.5 billion will be spent in the next five years to add 10 to 15 gates to the airport and the completion for the second phase of an additional 10 – 15 gates is projected for 2030 for a 30-per-cent increase in the airport's total capacity. There are no recent updates though you can find the details here.
3. LAX – Los Angeles International Airport: $14 Billion
Los Angeles International Airport is poised for an expansion that could add up to two new terminals and nearly two dozen new gates to help handle the influx of travellers headed to the city for the 2028 Olympic Games.
UPDATE: In April, work continues on several terminal vertical core projects in the Central Terminal Area (CTA) From a retail standpoint, DFS is closed for three months starting May 2020. Read the release here.
4. SFO – San Francisco International Airport: $1 Billion
An update on April 8th, 2020 announced that the near-term project set to start in June 2020 is delayed to October 2020 (at the earliest) and set to complete in 2021. The project is termed the T3 West project and entails a 400,000 sq ft renovation and a 190,000 sq. ft addition to the United Airlines Operations.
The Long-Term Development Projects would be initiated beginning in 2022 through the High Constrained planning activity level.
5. JFK – John F. Kennedy International Airport: $3.8 Billion
The expansion is expected to be complete with Delta consolidating its operations in early 2023. The roadway improvements will be completed in late 2025 with the other JFK Airport redevelopment projects. The project includes over 500,000 sq. ft of retail space. There are no new updates posted, though you can find the details here.
6. EWR – Newark Liberty International Airport: $2.7 Billion
Terminal B will be replaced by Terminal Two, which is in the middle of a $35 million design phase and a projected completion in 2022. The expansions will host a total of 33 gates (which can be expanded to 45) and will encompass as much as 1 million square feet.
The old terminal will be replaced with Terminal One, a gleaming, 1-million-square-foot $2.7B building just south of Terminal A is expected to open in two phases in late 2021 and late 2022.
EWR expansions include a walk through Duty-Free Shop projected to open in 2021 in the current Terminal C to substantially expand the current Dufry footprint.
More details are available here:
7. SEA – Seattle Tacoma International Airport: $1 Billion
The Port of Seattle Commission updated its 2020 construction plans to boost local COVID-19 economic recovery through project spending and hiring while enacting public health protocols developed with guidance from state and federal agencies. The updated plan allows the Port to continue approximately 20 projects currently under construction that qualify as essential sector work.
This long-term project, with an estimated completion date of 2024, is designed to create space for new dining and retail businesses throughout the airport.
More details are available here:
8. ORD – O'Hare International Airport: $8.5 Billion
Chicago's Aviation Department insists the coronavirus pandemic will not curtail its $8.5 billion expansion plan for O'Hare International Airport. There are growing signs the city will have no choice but to reconsider the project's scope and timing.
More details are available here:
9. SIN – Singapore Changi Airport
While on the topic of temporary airport closures and amid massive construction plans, it is important to include Changi Airport in Singapore set to reopen June 2.. CAG said the expansion project will add 15,500 sqm to the terminal building and further increase Changi Airport's capacity by five million passengers a year, which will bring the airport's total capacity to 90 million passengers a year when the project is completed in around 2024.
10. HAK – Haikou Meilan International Airport & SYX – Sanya Phoenix International Airport
According to Moodie Devitt's report, "Coordinating with the Hainan government, we will also have duty free experience stores covering 1,700sq m in Sanya Phoenix International Airport's airside area; while we will add 7,000sq m at the Haikou downtown store," Chen continued. "We are also speeding up the construction of 8,000sq m of retail space at Haikou Meilan International Airport Terminal 2. On top of that, we plan to launch a series of big marketing promotions on the island."
It is essential to take the long-term view for the rebound period and to keep focus and solidarity throughout the rebound period. Focus and commitment and contributions among leaders will take this industry towards a brighter tomorrow. It is a pleasure to stand with you and to contribute to this wonderful workplace.
Admin
Great coverage by Mark Lane of the Moodie Davitt Report about our participation in a campaign for emerging UK no/lo spirit brand CleanCo in United Airlines Club lounges across four US airports. What an amazing team. It was an
Admin
We always enjoy recruiting through our network. Perhaps you or someone you know is interested in a temporary fragrance Beauty Advisor position at WDF YVR from April 3rd to June 7th. This opportunity is suited for someone with beauty/fragrance
Admin
Join SPARK at the 2022 Summit of the Americas. The Summit of the Americas is the International Association of Airport and Duty Free Stores annual show and will return as an in-person event! The International Association of Airport Duty