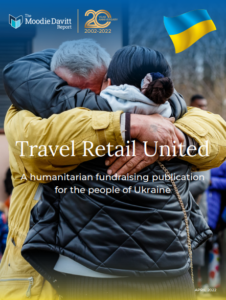 For a cause that is so near and dear to SPARK, we wanted to share coverage by The Moodie Davitt report on our recent donation to the Travel Retail United*, the humanitarian fundraising project for the people of Ukraine announced by The Moodie Davitt Report last week.
Spark Group's Heidi Van Roon makes powerful and poignant contribution to Travel Retail United humanitarian fund for Ukraine
by Martin Moodie
[email protected]
Source: ©The Moodie Davitt Report
13 March 2022
UKRAINE/CANADA. Heidi Van Roon, Founder & President of Canadian travel retail recruitment, staffing and train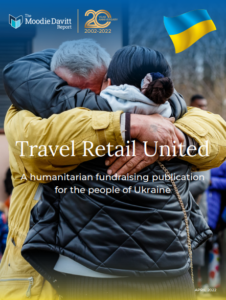 ing specialist The Spark Group of Companies, has made a C$3,000 donation to Travel Retail United*, the humanitarian fundraising project for the people of Ukraine announced by The Moodie Davitt Report last week.
The project and the war-torn crisis carry particularly powerful and poignant resonance for Heidi. "My mother was born in Ukraine and fled in 1946," she told The Moodie Davitt Report.
"As the only family member to make it to the West, her two-year journey and emigration to Canada was made possible through others. Here by the grace of God I have a life filled with opportunity and privilege.
"As history is repeating itself, the cause hits very close to home and the least I can do is to raise my hand and say every effort counts and every donation matters. Without NGOs I would not have the life and the opportunities that I have."
In an excerpt from her message to be published in a special Travel Retail United publication*, Heidi said, "It is my distinct privilege to respond to the Travel Retail United campaign providing humanitarian relief to families, women and children in crisis.
"Thank you The Moodie Davitt Report for this poignant initiative that so appropriately unites the international community of travel retail. Together we can support those in crisis. This is the time because every deed, every dollar, every effort is multiplied by making a difference in someone's life and by extension in many lives."
In 1952 two refugees, Anna and Gerhard (born in Poland) found each other in Aldergrove BC. They married (above left) and started their new life in a country of opportunity and freedom. Anna worked graveyard shifts to send care packages to her family members in Russia and in Ukraine.
They dedicated their lives to the service of others and worked for NGOs the majority of their married life. As a widow in her senior years after Gerhard passed in 1985, Anna participated in 27 humanitarian trips to Ukraine. Relearning the language, she became an advocate, translator and fundraiser for projects such as orphanages, churches and housing for seniors. In 2017 Anna (pictured above right with Heidi) moved into long-term care due to Alzheimer's.
She was also diagnosed with PTSD (post-traumatic stress disorder). "We never knew the profound effects the war had on her until then," recalled Heidi. "Regardless, her conversations to this day are about helping others. Never taking anything for granted, she even offers to pay for her apple juice at snack time.
"She has endured the COVID lockdowns and all the implications on seniors care during the pandemic. Testing positive this January and at age 95 she overcame yet another hurdle and was playing bingo in the dining hall two weeks later.
"She is my inspiration for everything I do, if she can make a difference in so many people's lives with the little means she had, then I certainly can with the resources entrusted to my generation."
[We will tell Anna's story in full in the Travel Retail United publication.]
*How to support Travel Retail United
All revenues raised will go to the Ukraine Humanitarian Appeal in association with the Disasters Emergency Committee (DEC). Donations will help Ukrainian families with food, water, hygiene items and other vital supplies.
Donors can pledge/donate anonymously
Or
As reported, The Moodie Davitt Report is also producing a special apolitical publication to accompany the project. Instead of traditional advertising, donors (individuals or companies) can provide an appropriately humanitarian or peace-related image (photo, painting or drawing) or a piece of writing (poem, excerpt or original message) to appear besides a subtly positioned brand logo (if required). The digital publication is strictly humanitarian and not political in nature. All content will reflect that fact.
There is no fixed price for any donation or advertisement but please be as generous as possible. The Moodie Davitt Report will be making a substantial cash donation as well as absorbing all freelance design, editorial and distribution costs. Every cent raised will go to the fund with appropriate documentation provided to each donor.
Admin
Great coverage by Mark Lane of the Moodie Davitt Report about our participation in a campaign for emerging UK no/lo spirit brand CleanCo in United Airlines Club lounges across four US airports. What an amazing team. It was an
Admin
We always enjoy recruiting through our network. Perhaps you or someone you know is interested in a temporary fragrance Beauty Advisor position at WDF YVR from April 3rd to June 7th. This opportunity is suited for someone with beauty/fragrance
Admin
Join SPARK at the 2022 Summit of the Americas. The Summit of the Americas is the International Association of Airport and Duty Free Stores annual show and will return as an in-person event! The International Association of Airport Duty