SERVICES
SPARK is a Sales and Promotions firm that partners with global brands and retailers to provide comprehensive recruitment and staffing services for luxury travel retail. Services include: Recruitment – Single or Volume, Staffing – Permanent: Full time / Part-time, Staffing – Temporary / Internships, Pro bono sales consulting and employee compensation design, Recruitment fairs and travel retail info sessions, and Professional Leadership Training.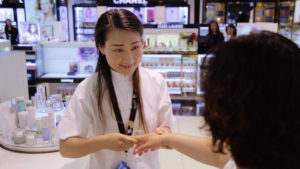 "Little did I know how valuable the SPARK partnership would prove to be for supporting our company's vision to create a world-class sales team …. facilitating our category's contribution to consistent sales increases year over year for four consecutive years" Beauty Dept. Manager – Travel Retail, Canada
"I can't express the gratitude I have for your continuing to do what you can at a local level to support the brands your BAs represent.  It truly is such a positive light in the midst of such a challenging time" Retail Sales Manager – Fragrances North America
Get in touch with SPARK today!
WHAT OUR CLIENTS HAVE TO SAY
CORPORATE TRAINER
"We really should have videotaped the group makeup interviews and recruitment event. It is an example of how it really should be done."
Corporate Retail Trainer – Travel Retail, US
HR MANAGER
"The former recruitment agency submitted zero qualified candidates in three months. We then contracted SPARK and hired six candidates within six weeks. We are happy, happy, happy."
HR Manager – Luxury Retail, Canada
REGIONAL DIRECTOR
"The Beauty Advisor team staffed by SPARK is among the top for professionalism and sales performance across our North American airports."
Regional Director – Travel Retail, US