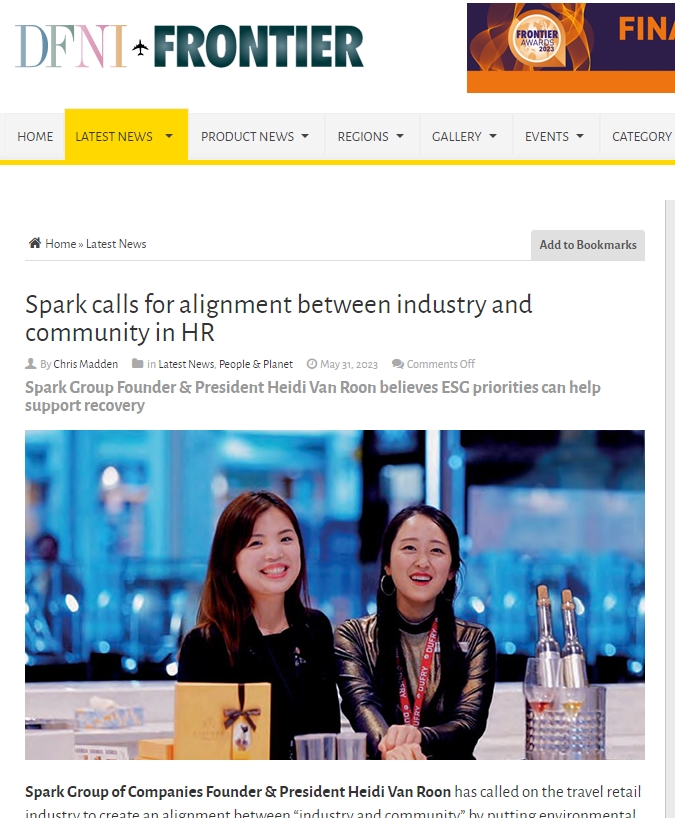 Last month, SPARK was featured in Duty Free News International discussing the current state of affairs of the travel retail industry and our goals to put ESG priorities first. Please check out the article here and below:
Spark Group of Companies Founder & President Heidi Van Roon has called on the travel retail industry to create an alignment between "industry and community" by putting environmental, social and governance (ESG) priorities at the heart of a "modernised human resources agenda".
"Well implemented ESG values are the baseline for the recovery and these include a substantially modernised Human Resources agenda," Van Roon said in a statement. "Future workplace cultures need to be competitively positioned today to support and attract winning teams.  This will not happen by chance, it needs to be a boardroom decision."
She believes travel retail can be a "career of choice" for people, but says change is needed to create a framework for "consistency, quality, value, economies of scale, relationships, digitalisation and accountability".
"I have seen what happens when all the stars align and I have also witnessed what happens when opportunities for change are missed," Van Roon concluded. "I am sounding the bell, that the industry is currently in an HR dilemma. We simply cannot afford to do nothing."
Admin
Great coverage by Mark Lane of the Moodie Davitt Report about our participation in a campaign for emerging UK no/lo spirit brand CleanCo in United Airlines Club lounges across four US airports. What an amazing team. It was an
Admin
We always enjoy recruiting through our network. Perhaps you or someone you know is interested in a temporary fragrance Beauty Advisor position at WDF YVR from April 3rd to June 7th. This opportunity is suited for someone with beauty/fragrance
Admin
Join SPARK at the 2022 Summit of the Americas. The Summit of the Americas is the International Association of Airport and Duty Free Stores annual show and will return as an in-person event! The International Association of Airport Duty