HEIDI VAN ROON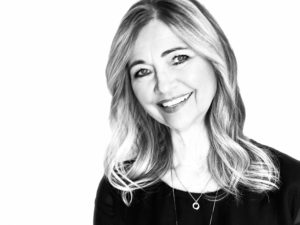 Heidi Van Roon is a leader, a mentor, and a perennial champion of the entrepreneurial spirit. Her many ventures, which run the gamut from founding a line of luxury furnishings to her current work as the Founder and CEO of SPARK Business Services Group Inc., are all indelibly stamped by her enthusiastic personality. She is a savvy strategist with a soft heart. She sees opportunities to create mutually rewarding arrangements, positive growth, and a better world for all stakeholders, and she runs after them. Hard.
This talent for seizing the proverbial day has been with her from the launch of her entrepreneurial career. In 1997, she founded a sole proprietorship designing, manufacturing, and selling high-end home furnishings. Within one year of inception, she was exhibiting in juried trade shows in Vancouver, Toronto, and San Francisco. Ever the gifted saleswoman, she soon secured contracts with independent, regional, and national retailers such as Neiman Marcus and Horchow Catalogue. Within four years, her products attained growth and annual revenues in the top 3% of BC manufacturers in the cottage industry.
"I had no intention of starting a business," she recalls, with no small measure of amusement. "It was just my craft gone mad. It made sense to seize that window of opportunity."
The experience inspired her to pursue sales excellence, ingenuity, and commerce. Her creative, strategic mind went into high gear. In 2004, she completed her M.B.A. at Beedie School of Business Simon Fraser University, where she was a finalist for the Scotiabank Graduate Scholarship for Women Entrepreneurs and the recipient of the peer award for Outstanding Leadership.
She developed into a Canadian and US National Account Manager and Sales and Marketing Director. She had truly found her niche as a benevolent leader who could match corporate resources with market opportunities—and all with the intention of helping individuals and businesses thrive, achieve, and succeed. In 2011 she founded SPARK Business Services Group with the challenge to build a best-in-class staffing and recruitment firm for Luxury Retail, including a specialization for airport environments. As a lifelong learner, she returned to the textbooks in 2018 to formalize her Human Resources experience with the CPHR and the SHRM-SCP designations.
In addition to founding and leading SPARK Heidi has been active as:
Co-founder and partner for Van Roon Group Holdings 1997 – 2017

Co-founder and President for Blitz & Bloom Talent Group Ltd. 2010 – present

Manager for Ovi Productions Inc. 2010 – 2014

Founder and author for the professional development curriculum: W!N W!N Strategies (a division of the Van Roon Group) 2009 – 2011

Director for the Langleyhill Housing Society 1997- present

Mentor for Leaders of Tomorrow at the Greater Vancouver Board of Trade 2006-2012

Mentor for the Canadian Youth Business Foundation 2010 – 2012

Vice-chair for the Government Budget and Finance Task Force at the Vancouver Board of Trade. 2014 – 2017

Public speaker and guest lecturer at conferences, career fairs, workshops and post-secondary institutions
At home with her family in Vancouver, BC, Heidi continually expresses her signature brand of energetic, people-positive love. She was a foster parent and member of the BC Foster Parent Association for a decade. She is an intensely proud wife, mother, and grandmother. There's nothing she wouldn't do—no opportunity she wouldn't chase—to contribute happiness for her family and a legacy for her community.